By Andrew Gage
In February I went to a party. A first-of-its-kind party, called a "Sue Big Oil House Party." The youth organization Shake Up the Establishment and West Coast Environmental Law had come up with unique games and activities to get people laughing and talking about climate change. Dozens of people came out to play these games and to enjoy each other's company while eating and drinking together. From "Cards Against Climate Change" to puzzles and a photo booth, a good time was had by all.
But what were we really hoping to accomplish? How does a house party help solve climate change?
The origin of the Sue Big Oil party
When Sue Big Oil first launched, we created a list of suggested actions that people could take towards the goal of ensuring fossil fuel companies pay their fair share of climate costs. One of these suggestions was throwing a "house party." The idea was something like an old-fashioned Tupperware party: one person invites their friends over, has some food and drink, and discusses climate change. We had ideas for trivia games and other fun activities that would get people talking, but it was a relatively sedate affair.
Enter Manvi Bhalla of Shake Up the Establishment. Fiona, our Climate Accountability Strategist, and I met her at a climate change retreat, and she immediately saw great potential in the idea of Sue Big Oil House Parties – and especially as a way to appeal to youth. "You need more party!" she said. "Have you thought of a signature Sue Big Oil cocktail?"
Thus began a months-long collaboration in which Shake Up the Establishment offered to create a toolkit with menu ideas, games and advice on how to spread the word about Sue Big Oil.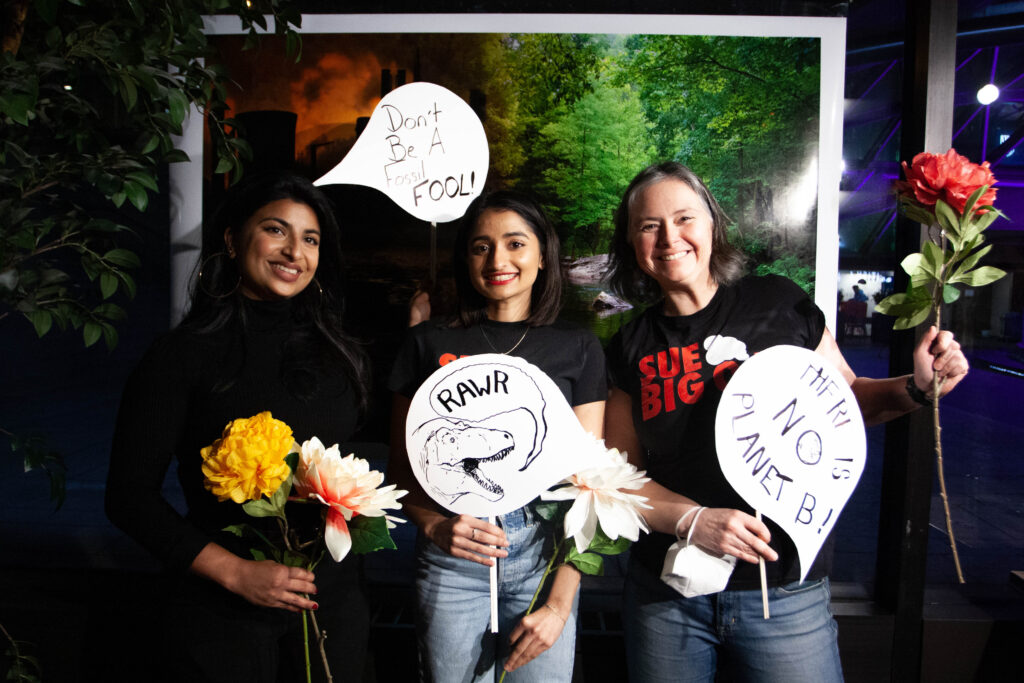 The importance of partying
Weeks before the launch, the Yale Program on Climate Change Communication released the results of its annual poll tracking Americans' views on climate change. And I was struck by one result: although two-thirds of Americans say that climate change is important to them, 63% say that they rarely or never discuss climate change with their family and friends.
The situation appears to be slightly better in Canada. When Ecoanalytics asked the same question in a 2022 poll, 54% of respondents said they discussed climate change with family and friends often (10%) or occasionally (44%), but still 46% said they never or rarely did so.
And yet, climate scientist Dr. Katharine Hayhoe has said that talking about climate change, and especially expressing one's feelings and values, is the most important thing individuals can do to stop climate change.
It is understandable that people are reluctant to talk about a subject about which they may feel hopeless, or because they worry about causing despair. But the social science tells us that we need to talk about this.
How do social norms change? They change by seeing people and by hearing about people doing things differently and so that's why individual action matters.
It may seem that a Sue Big Oil Party trivializes the seriousness of climate change. However, a bigger concern is that people are not talking about the crisis. We believe that engaging in discussions about climate change – even at a fun party with friends – can be an important part of the solution.
A message of hope
We don't come to the party empty-handed: the Sue Big Oil campaign brings a message of hope.
Because we know that the fossil fuel industry will continue to look profitable to investors and governments as long as they can keep the costs of climate change – and their liability for their role in causing it – off of their balance sheets. The moment it becomes clear that oil, gas and coal companies will be sued, and will have to pay a share of the costs that their products (and their decades of misinformation and lobbying to keep us addicted to fossil fuels) have caused, the metaphorical dam will burst and we will see investors and governments shifting their attention to renewables. At that point there will be space for our communities to build systems that put people ahead of corporate profits.
Let's take time to celebrate that we finally have a path forward on climate change.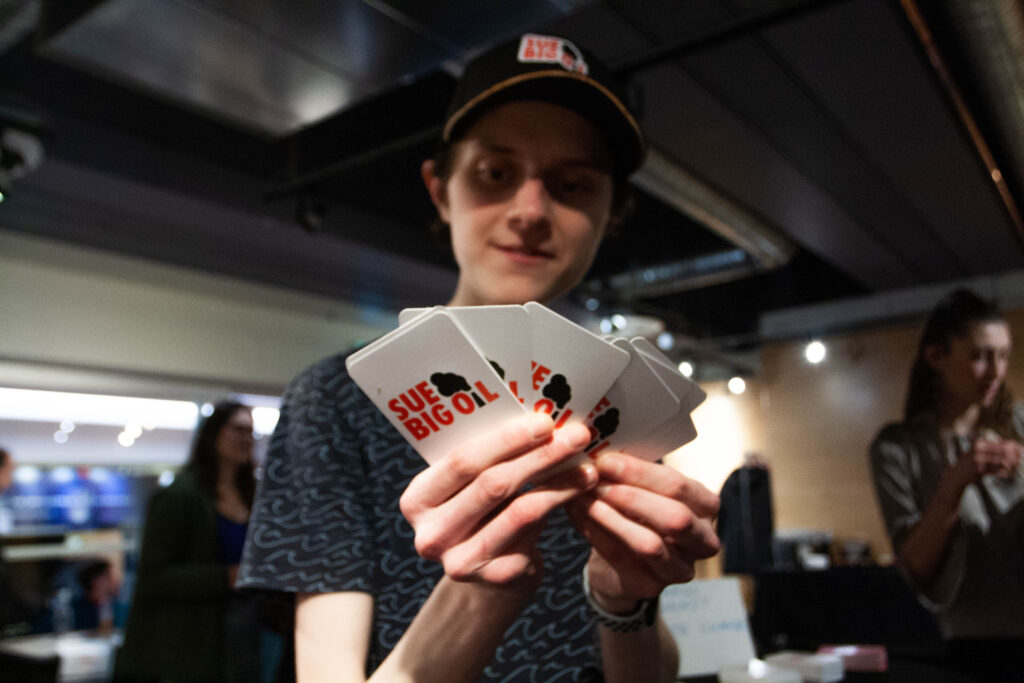 Take time to play a game
At the launch party for the Sue Big Oil House Party kit, around 60 guests checked out a range of games, food and activities. A few of the games (that you might include in your own Sue Big Oil House Party) included:
See the Sue Big Oil Party Kit and Google Drive for more Sue Big Oil games and activities.
Guests also had their picture taken with pro-climate messages for sharing on social media, wrote letters to Vancouver Council and signed the Sue Big Oil Declaration – because who says a party can't make the world a better place?
Interested in hosting a Sue Big Oil House Party? Check out the House Party Toolkit and sign up here. We'll reach out to see how we can help.